Located in Kanyakumari, Hotel Sri Devi is one of the best family hotels in kanyakumari, offering a restaurant, free private parking, an outdoor pool, and garden accommodation. The hotel offers 24-hour front desk service, an airport shuttle, room service, and free WiFi. The first thing you remark when you arrive at Hotel Sri Devi is its friendly and homely atmosphere. Hotel Sri Devi is a great destination for families and literature lovers.
Our hotel has a total of 45 rooms, 18 halls, the standard bar inside, have kitchen and dining hall (group can cook their food by themselves), provision for driver's stay, and a travel desk.
read more

read less

Within walking distance of the temple, it is one of the best family hotels in kanyakumari to watch the sunrise and sunset. But what really sets our family hotel apart is our commitment to providing amazing quality of service. The hotel Sri Devi can be your home away from home that can meet all your needs and give you everything you want! This includes a fresh atmosphere, good food, and all the modern conveniences you need. This includes high-speed internet, valet parking, and express laundry.

Whether you are a businessman trying to entertain your customers or a cultural tourist trying to understand the farthest corners of the country, our service will meet the needs of the most discerning guests. Think about it when you are looking for comfortable and convenient accommodation! You can take advantage of the wide range of facilities we offer or rely on us to guide you to the various attractions in the city.

Kanyakumari, the southern tip of India, is unique in many ways, providing a full-fledged local experience at the hotel and unique and engaging service with attention to detail in the interaction with our guests. We will make each stay a precious memory. Visit us to find out why we are one of the best family hotels in kanyakumari!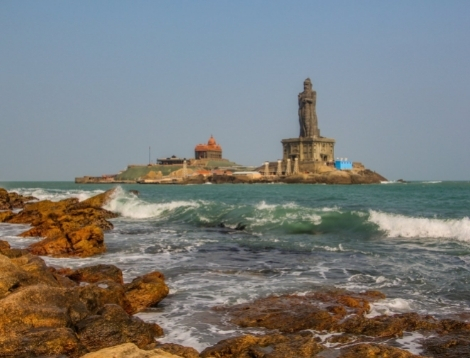 Explor Our
rooms
choose room according to budget
OUR
SERVICES
Our hotel provides personalized safety and security measures for different guest profiles such as women, children, and the elderly. Comfortable beds to rest your head. Good bathroom plumbing. And we have the policy of answering the phone calls attentively.
Left Luggage / Storage Facility
"
My parents visited Kanyakumari last weekend, and I made the booking at this hotel at the very last moment. Just one day prior to their arrival. The staff on the phone was veey courteous and welcoming. Their service was great. Rooms were clean and well maintained. My parents reached at 5.30 am, and had no issues in checking in at that wee hour. I'd suggest everyone to directly call the hotel and make the bookings. Its a place worth the money.
- Nilanjana Guha
"
Hotel Sri Devi is a good hotel. The rooms are provided with air-conditioning, television. The washroom is nice and clean. The hotel staffs and room services were good. They provide you with drinking water whenever needed (both cold and hot as required). There is lift within the hotel.
- Paulamee Ghosal
"
Good hotel near beach, fooding facilities, approach to transportation and most valuable staff behaviour is so nice and amicable.
- Sunil Kumar
"
Hotel Sridevi is very nice hotel with spacious parking area, good manoured reciption office with required sofa sets, polite receiptionists, spacious rooms with all required fecilities. I enjoyed the stay happily with my spouse for 2 days. The location of hotel is very near to railwaystation and also walkable distance to Temples.
- Pagidela